GreenStreet is the premiere entertainment, retail and urban office hub in downtown Houston. Bounded by Dallas St. to the north, Polk St. to the south, Main St. to the west and Caroline St. to the east, GreenStreet will span three city blocks, offering nearly 600,000 square feet of retail, loft office space and much more to inhabitants and visitors. The development opened October 2008, adding a valuable component to downtown's convention corridor.
House of Blues Entertainment, Inc., a Los Angeles-based global entertainment company, represents the definitive brand in live music, operating clubs and concert venues in locations across the country including Atlantic City, Chicago, Las Vegas and the Sunset Strip. Visitors to GreenStreet will be able to enjoy House of Blues' unmatched combination of Southern-inspired signature cuisine and a diverse offering of live music. In its commitment to serving the local community, House of Blues also supports the International House of Blues Foundation, a non-profit charitable organization dedicated to bringing the arts to schools and communities through programs that promote cultural understanding and creative expression.
Lucky Strike Lanes, which initially opened in the heart of Hollywood in 2003, is the nation's first truly upscale bowling lounge. With locations across the country, Lucky Strike attracts celebrities and "regular Joes" alike with its combination of retro elements, modern décor and state-of-the-art technology. Customers bowl at lanes edged in mini runway lights with artwork by up-and-coming artists projected on floor-to-ceiling video screens at the far end. In between rounds, guests can enjoy superior food selections such as skewered rock shrimp "porcupines," tomato-and-cheese s'mores and a chocolate insanity dessert in a hip restaurant and bar. Other restaurant tenants secured include:
McCormick & Schmick's: The Pavilions is the newest Houston location of this popular nationwide seafood restaurant. It will bring the sea to downtown with its varied, high-quality menu and excellent service.
Yao's Restaurant and Bar: Located just a few blocks from Toyota Center on the Main Street block of the Pavilions, this restaurant, which is owned by the family of Rockets superstar Yao Ming, will serve Yao's favorite dishes and other delights of contemporary Chinese cuisine.
Red Cat Jazz Café: The Red Cat, already one of the top live music venues in Houston, will add a taste of the French Quarter, with soulful blues and cool jazz serving as the backdrop for tempting Creole and southern cuisine.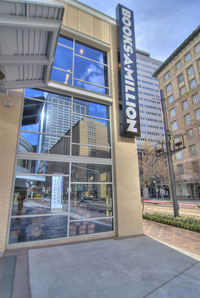 Books-A-Million store employs more than 40 people and will feature books, magazines, cards, gifts and collectibles. Specialty sections will include: Faithpoint – featuring an immense selection of Bibles, Christian Living and Christian Fiction titles. Kids-A-Million – featuring children's books, learning resources, toys and games that appeal to children, parents, teachers and librarians. Joe Muggs Café – a coffee and espresso bar complete with comfortable café seating and decadent pastries and snacks. Houston residents who are new Boo ks-A-Million patrons are encouraged to sign up for the Millionaire's Club, where members save 40 percent off hardback bestsellers, 20 percent off hundreds of items throughout the store and 10 percent off everything, everyday. The bookstore also offers discount programs for teachers and community organizations. Books-A-Million is one of the nation's leading book retailers and sells on the Internet at www.booksamillion.com. The Company presently operates more than 200 stores in 20 states and the District of Columbia. The Company operates two distinct store formats, including large superstores operating under the names Books-A-Million and Books & Co., and traditional bookstores operating under the name Bookland. The Company's wholesale operations include American Wholesale Book Company and Book$mart, both based in Florence, Alabama.
Geoffrey Jones, a Houston real estate developer and investor, has developed several shopping centers, office buildings, warehouses and residential projects in the greater Houston area. His projects include the Compass Bank Building and the Cedarstone Office Complex in The Woodlands, Northdale Plaza in Kingwood, April Pointe Plaza on Lake Conroe and Theiss Oaks Square in the FM 1960 area. Jones is also one of the original founders of the First National Bank of the Woodlands. As vice president of regional mall development for Homart Development co. in Chicago, William Denton was responsible for the development of Baybrook Mall, Deerbrook Mall and Willowbrook Mall in the Houston area. Today, Denton, as president and CEO of Entertainment Development Group, Inc., is responsible for the widely acclaimed Denver Pavilions, downtown Denver's premier entertainment and retail complex. With its exclusive group of dynamic tenants, Denver Pavilions change downtown Denver overnight. GreenStreet, LP, in which Jones and Denton are co-general partners, plans to bring about a similar transformation in downtown Houston with the GreenStreet project. Minute Maid Park, the Toyota Center, Reliant Stadium, and the MetroRail light rail system are powerful economic engines that helped trigger the rebirth of downtown Houston. "The GreenStreet will be another building block in ensuring the economic vitality of downtown Houston," said Harris County Judge Robert Eckels. "Harris County will continue to be a partner in the economic growth and prosperity of our city and county.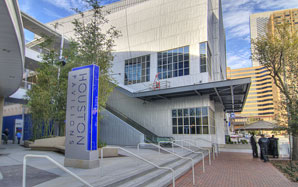 GreenStreet includes 360,000 square feet of retail space that will occupy the first two levels of the development, with entertainment venues located on the third floor. A central courtyard and people-friendly streetscapes will allow for alfresco dining and window-shopping. The entire second floor of the development will be connected through walkways spanning Fannin St. and San Jacinto St. "GreenStreet represents one more turning point for the evolution of downtown. As a major activity center, GreenStreet will create sustainability and synergy with downtown's other uses and adds another dimension to Main Street and to our quality of place," said Bob Eury, president of Central Houston, Inc. and executive director of the Houston Downtown Management District. The project also incorporates about 200,000 square feet of first-class office space. A 1,600-space garage across the street will provide ample parking. GreenStreet was recently recognized by the Houston Business Journal with a 2006 Landmark Award for "Best Land Deal." "We want to break the mold as far as urban mixed-use hubs are concerned," Jones said. "Houston is a major international city, and it needs to have an urban core befitting its stature. GreenStreet will help keep the heart of the city active around the clock." The BlackRock Realty Tower Fund is the principal financial partner of GreenStreet, LP and Houston Catalyst, LP is also an investment partner. GreenStreet, LP has lined up an $8.8 million development grant from the City of Houston and $5.5 million from Harris County as partial funding. The site of the development will be part of the Main Street/Market Square Tax Increment Reinvestment Zone. In addition, the project secured $140 million in construction financing from North Houston Bank in October of 2006. "We will transform this prime downtown location into a destination for Houstonians looking to experience innovative dining, retail and office opportunities," Denton said. "GreenStreet will provide a shot in the arm to downtown convention booking, drawing groups from all over the world to downtown's top-notch meeting facilities."
Architects for the project include internationally recognized architecture and design firm Hellmuth, Obata + Kassabaum, Inc. (HOK).
GreenStreet, a $170 million project encompassing almost 600,000 square feet, will be bounded by Dallas St. to the north, Polk St. to the south, Main St. to the west and Caroline St. to the east. Developed by Geoffrey Jones and William Denton, who separately have been responsible for numerous commercial and residential developments in Houston and beyond, GreenStreet will bring exciting new offerings such as the House of Blues® mix of great food and live music and Lucky Strike Lanes' chic bowling facilities. "GreenStreet will bring new jobs to downtown, boosting our efforts to keep the area an exciting place to work and play," said Houston Mayor Bill White.