Home
Archichat | September 2011
SHAFIK I. RIFAAT, AIA, AICP
SIR INC. ARCHITECTS & PLANNERS
Professor of Architecture, University of Houston,  SIR Inc. Architects & Planners, Master's of Architecture, Massachusetts Institute of Technology  Master's of City Planning, Harvard University  Bachelor of Science in Architecture, University of Alexandria, Egypt .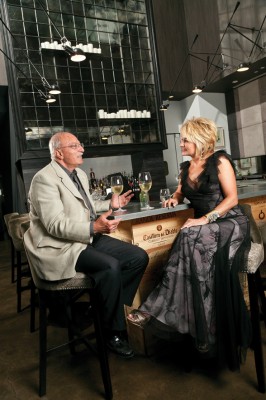 CURRENT PROJECTS: Remodeling an addition to the old Boy Scout Building on Bagby and an accompanying 8-story garage with restaurant on the ground level.
RECENT PROJECTS: Philippe Restaurant + Lounge on Post Oak Boulevard; aproposal for a glass and canvas pavilion in Hermann Park; a residence in Sugar Land; tax credit housing for veteran women.
HOW DID YOU COME TO LIVE IN HOUSTON? I came to Houston to attend the master's program at the College of Architecture at the University of Houston
HOW DO YOU APPROACH THE DESIGN OF A RESTAURANT? When I was a child growing up in Egypt, my mother, despite having a full-time cook, prepared our special dish every day. I remember helping her prepare tiny okra (Bamia) which were stacked one by one in a circular manner on top of lamb, onions and garlic and laid in a special pot. After cooking, it would be reversed into a plate like a perfect mound that let the juices seep into the okra. To be able to design a good restaurant, you have to love food. Designing a restaurant, as with any architectural project, begins with the context in which the restaurant will be built. A place like Grotto that was located in a strip shopping center had built-in parameters and an exterior vocabulary that I had to work within. It was the same with Philippe Restaurant + Lounge in the new BLVD Place. On the other hand, a restaurant such as Tony's on an open space begins from the ground up allowing more freedom of creativity. There are three key elements to restaurant design: ambience, back of the house (kitchen) and the front of the house. As the architect, I find the most important piece is the ambience because it is the essence of the restaurant. The type of cuisine, price point and clientele also influence the design.
WHAT ARE THE TRENDS YOU ARE SEEING? Restaurants are more casual and there is more outdoor dining, the greater use of filtered lighting and lower ticket.
WHO IS YOUR FAVORITE ARCHITECT AND WHY? Michelangelo, because he was master of all arts – painting, sculpture, architecture and engineering.
WHAT DROVE YOU TO ARCHITECTURE AND WHAT DO YOU LOVE MOST ABOUT IT? The combination of arts and sciences was the draw, and the aspects I enjoy most are the creativity involved and sense of accomplishment once a project is completed.
WHAT ARE YOU ITCHING TO WORK ON? A hotel in a beautiful natural setting and a grand residence overlooking a body of water or with a grand view.
HOW CAN CHILDREN BE ENCOURAGED TO APPRECIATE ARCHITECTURE? They should learn to draw free-hand and be taught an appreciation of art in all its form.
IF YOU WERE NOT AN ARCHITECT, WHAT WOULD YOU BE? A musician or a painter.
WHAT STAMP OR IDEA DO YOU WANT TO LEAVE ON THE WORLD AND WHY? The concept of great places for people to enjoy a peaceful life, places that are visually pleasing and a positive impact on my students at the University of Houston.
BEST PLACES TO HANG OUT: Tony's bar (a table in front of the fireplace); Hotel Granduca bar for European ambience; El Tiempo on Richmond for killer top-shelf margaritas; Philippe Restaurant + Lounge for great bar menu.
LAST PLACE YOU WANT TO GO BEFORE YOU GO: Fly fishing in a beautiful remote area.
MOTTO: Enjoy life. Make the people around you happy. Share the good things in life with someone you love.
FAVORITES
FAVORITE GADGET A good chef's knife and a good corkscrew FANTASY DINNER PARTNERS I.M. Pei, Bill Clinton, Lady Gaga ON YOUR iPOD Mozart and Vivaldi VACATION SPOT Hotel Splendido in Portofino, Italy BEST GIFT YOU HAVE RECEIVED Love FAVORITE FLOWER Gardenia for fragrance, peonies for beauty FAVORITE STRUCTURE Egyptian pyramids.